This browser does not support the HTML5 video element.
This browser does not support the HTML5 video element.
This browser does not support the HTML5 video element.
SMOOTHING CLEANSER complexion purifier - Unscented
Gentle and effective, our original oil-based cleanser melts away makeup and impurities.
0

%

increase in skin hydration after one use.
WHAT IS IT?
Dermatologist-approved for all skin types, this multi-award-winning cleanser is your daily reset – designed to wake you up in the morning and remove makeup and impurities at the end of your day.
WHAT DOES IT DO?
Using gentle jojoba oil to dissolve dirt and makeup, green tea extract to fight free radicals and aloe vera juice to provide a rush of moisture, it leaves the complexion soft and springy.
Available in a scented version with eucalyptus and rosemary essential oils, or an unscented version for super-sensitive skin.
Better still, buy Smoothing Cleanser as part of our ABC Collection and save £20.
SMOOTHING CLEANSER complexion purifier - Unscented

Want to know when this Tropic treat is back in stock? Simply add your email below and we'll give you a shout!
SMOOTHING CLEANSER complexion purifier - Unscented
Clinical Data
In an independent clinical study, testers' skin showed on average over
50% increase in skin hydration after one use.
How To Use
Apply a raspberry-sized amount onto your dry face and neck twice daily, treating yourself to a relaxing massage to reset your mind and stimulate your senses.
If you're wearing makeup, rinse off with warm water and reapply for a second cleanse.
Then, soak your Bamboo Cloth in warm water and use it to gently steam and exfoliate your skin, removing any excess product. Finish with a refreshing splash of cold water.
Sustainability
We're using Provenance® to transparently share the ethics behind our products in clear, accessible Proof Points. If a Proof Point is Verified, it's been backed up by a third party independent body. If it's Evidenced, it's not third party verified just yet, but we've got our own data to support it.
Delivery & Returns
Free delivery when you spend £40+
30-day happiness guarantee
To see all delivery & returns information see here.
Key Ingredients
We only use the finest natural, sustainably sourced ingredients – no artificial preservatives in sight. So that's everything you need for results, and nothing you don't.
VIEW FULL INGREDIENT LIST
Green tea extract

What can't this do? Bursting with antioxidants that protect from UV and free radicals, it also boosts skin cell regeneration and balances sebum levels – perfect for those who suffer from breakouts.

Golden jojoba oil

Restoring the skin so it stays strong and fully functioning, jojoba oil is actually a liquid wax (rather than a traditional oil) which means it's more like your skin's own sebum. That's why it won't clog pores and makes it suitable for everyone – a real crowd pleaser.

Macadamia oil

Not just delicious to eat, these Australian nuts are filled with oleic, linoleic and palmitoleic fatty acids which basically means that they boost your skin's resilience and keep it super supple. They also contain a hefty portion of vitamin E to nourish and replenish any dry areas and because the oil is a similar concentration to our skin's sebum, it soaks it up easily without clogging pores.
Full Ingredients list
ingredients (English): Aloe Vera Juice [Reconstituted]*, Oils from Golden Jojoba*, Olive* and Macadamia*, Coconut Derived Emollient and Emulsifier, Vegetable Glycerin, Coconut Derived Emulsifier, Aloe Vera Leaf Extract*, Shea Butter*, Sunflower Lecithin*, Avocado Oil*, Green Tea Leaf Extract*, Gentle Preservatives from Basil and Star Anise, Corn Derived Chelating Agent, Vitamin E, Corn Sugar Gum, pH Balancers
*from organic agriculture
Ingredients (INCI): aqua, simmondsia chinensis seed oil*,olea europaea fruit oil*,macadamia integrifolia/tetraphylla seed oil*, cetearyl alcohol, glycerin, cetearyl glucoside, aloe barbadensis leaf extract*, butyrospermum parkii butter*, lecithin*, persea gratissima oil*, camellia sinesis leaf extract*, sodium levulinate, sodium anisate, sodium gluconate, tocopherol, xanthan gum, sodium hydroxide, lactic acid
*from organic agriculture

OF TOTAL: 90% ORGANIC, 100% NATURAL ORIGIN
Save with our ABC collection
Buy these freshly made formulas together, and you'll save £20. Not quite the right match? Build Your Own ABC Collection here. 
STEP 1 -

Cleanse

STEP 2 -

Mask

STEP 3 -

Tone

STEP 4 -

Moisturise
Get The Look
Ready to recreate this makeup masterpiece? Here's everything you'll need!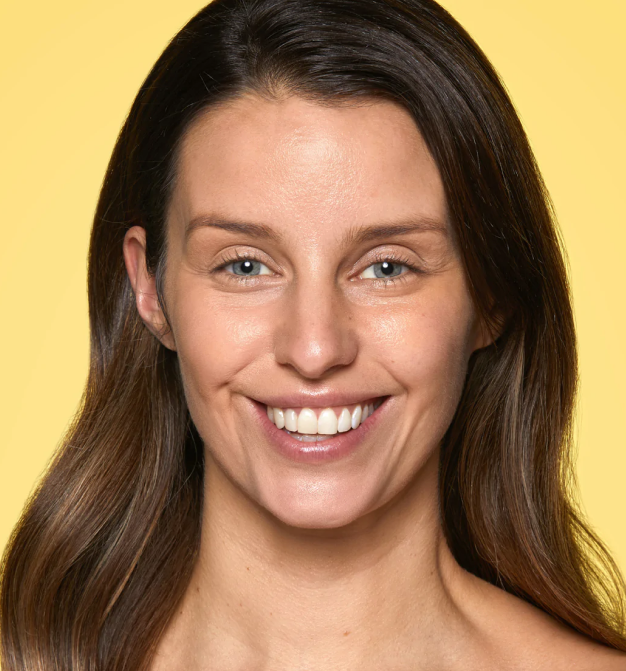 vegan
certified

Cruelty-Free
certified

Cosmos Organic
Certified

Made in Britain
Certified

co2
negative

10% of
profits donated