This browser does not support the HTML5 video element.
This browser does not support the HTML5 video element.
This browser does not support the HTML5 video element.
MORNING MIST soothing toning essence - Unscented
Prep and prime skin with this hydrating, pH-balanced mist.
0

%

improvement in skin hydration in two hours.
WHAT IS IT?
This refreshing infusion combines nutritious avocado milk with refreshing aloe vera juice and hyaluronic acid to drench your skin in antioxidant-rich hydration.
WHAT DOES IT DO?
Formulated with gentle ingredients to keep your skin's pH-level balanced, this milky toning essence helps to maintain healthy barrier function, so your complexion stays moisturised and protected against environmental aggressors.
Prepping and priming skin to function at its best, use it as a softening toner, a leave-on essence, a dewy finisher or a revitalising desk-side spritz whenever you need a pick-me-up throughout the day.
Better still, Morning Mist is available as part of our money-saving ABC Collection. Buy today and save £20. 
MORNING MIST soothing toning essence - Unscented

Want to know when this Tropic treat is back in stock? Simply add your email below and we'll give you a shout!
MORNING MIST soothing toning essence - Unscented
Clinical Data
In independent clinical study, testers' skin showed on average
91% improvement in skin hydration in two hours.
How To Use
Spritz onto freshly cleansed skin, then follow with your serum and moisturiser of choice. Top up throughout the day wherever your skin needs a little reinvigoration and hydration. You can even spritz it over makeup after a few hours of wear to keep it looking fresh and dewy.
Sustainability
We're using Provenance® to transparently share the ethics behind our products in clear, accessible Proof Points. If a Proof Point is Verified, it's been backed up by a third party independent body. If it's Evidenced, it's not third party verified just yet, but we've got our own data to support it.
Delivery & Returns
Free delivery when you spend £40+
30-day happiness guarantee
To see all delivery & returns information see here.
Key Ingredients
We only use the finest natural, sustainably sourced ingredients – no artificial preservatives in sight. So that's everything you need for results, and nothing you don't.
VIEW FULL INGREDIENT LIST
Aloe Vera Juice

Part of what gives this mist its juicy qualities is aloe vera – the gold standard skin soother. It's also hydrating – so it stops any dry feeling – and the skin loves it, which is why it absorbs it so fast.

Tiger Grass Extract

Also known as centella extract, tiger grass extract boasts some pretty powerful repairing skills, as well as being an anti-inflammatory and antioxidant.

Avocado Milk

Avocado milk nourishes skin in a cloud of comfort, nurtures dryness away, and keeps that all-important pH-level in check.
Full Ingredients list
Ingredients (English): Aloe Vera Juice [Reconstituted]*, Prebiotic Ferment, Plant Derived Humectant, Aloe Vera Leaf Extract*, Avocado Oil, Cucumber Fruit Juice, Green Tea Leaf Extract, Extracts from Radish, Legume and Cranberry Seeds, Tiger Grass Extract, Vitamin E, Vitamin C, Gentle Preservative from Star Anise and Basil, Hyaluronic Acid, Vegetable Oil, Corn Derived Chelating Agent, Olive Squalane, Phospholipids, Vegetable Glycerin, Coconut Derived Emulsifier, Maize Derived Citric Acid, Plant Derived Humectant and Amino Acid
*from organic agriculture
Ingredients (INCI): aqua, lactobacillus ferment, propanediol, aloe barbadensis leaf extract*, persea gratissma oil, cucumis sativus fruit water, camellia sinensis leaf extract, raphanus sativus extract, lens culinaris seed extract, vaccinium macrocarpon fruit extract, madecassoside, tocopheryl acetate, ascorbyl glucoside, sodium anisate, sodium levulinate, sodium hyaluronate, hydrogenated vegetable oil, sodium gluconate, squalane, phospholipids, glycerin, polyglyceryl-10 laurate, citric acid, pentylene glycol, arginine
*from organic agriculture

OF TOTAL: 83% ORGANIC; 100% NATURAL
Save with our ABC collection
Buy these freshly made formulas together, and you'll save £20. Not quite the right match? Build Your Own ABC Collection here. 
STEP 1 -

Cleanse

STEP 2 -

Mask

STEP 3 -

Tone

STEP 4 -

Moisturise
Get The Look
Ready to recreate this makeup masterpiece? Here's everything you'll need!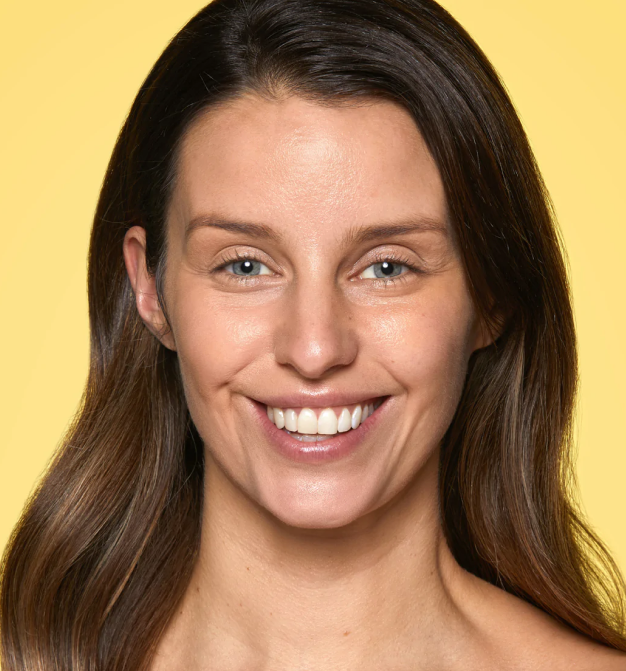 vegan
certified

Cruelty-Free
certified

Cosmos Organic
Certified

Made in Britain
Certified

co2
negative

10% of
profits donated